______Cv
______Contact
_Katinka de Jonge
__________Sorry
___________Tina Cake Line
___________Atmospheric Measurement Program
___________Nagele Door Nagele
___________On the Shoulders of Giants
__________The Garland Strategy
___________De Buitenlanders
______About
______Works
__________Wellness Centre Future Proof________________
Wellness Centre "Future Proof" is an attempt to reflect and act from the supposition of a 'potential apocalyptic threat'.

Wellness Centre "Future Proof" aspires to add an extra but nevertheless essential dimension to the concept of "common sustainability" in our Anthropocene.

Wellness Centre "Future Proof" starts from the suggestion that it might be more constructive to look at the world as a place of trauma-processing, instead of "prepping". We are looking for places (these can also be mental / ideological / imaginary places) where the apocalypse has already taken place, and want to think about them as locations of a possible revival.





________Current
________Archive
__________"Die Denken dat dat allemaal vanzelf gaat"
_____________Productions External Links
___________The Open Source
___________The Manual Treatment
___________Recipes for Earthly Survival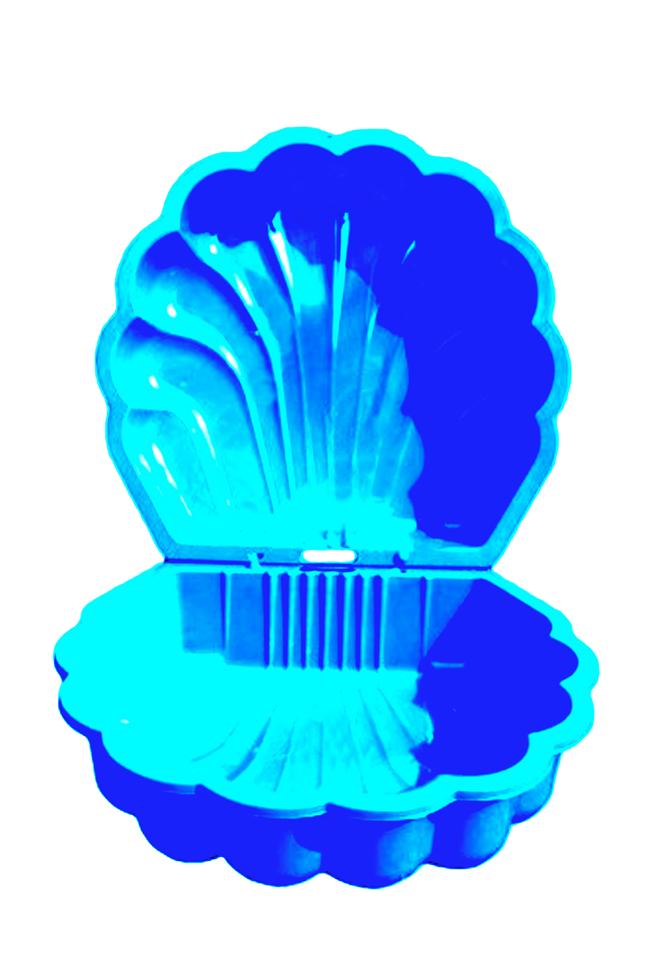 ___________The Open Source_____________
Poppositions, Brussels, BE
Lodgers #14 M HKA, Antwerp, BE
Relaunch Netwerk Aalst, BE
Work Flow, Sint Niklaas, BE
The Open Source is a multi-media installation with a Shell-shaped Fountain, Porcelain Shells and an Audio-guide.

The Story of 'Water' and 'Shell' are told by tree characters; Eve, Hydra and Snail.
They go into discussion about the 'planetary currents' in relation to these protagonists.
During the audio-guide the Listener is asked to carry a porcelain Shell with him/her and in his way charge it with its personal energy. At the end of the tour the Listener can choose whether to 'free' the Water inside the Shell and release it in the Open Source (from which it originates) or to take it home for 'personal purposes'. In this way determining whether or not the apocalypse will occur.

_______Poppositions 2018____________________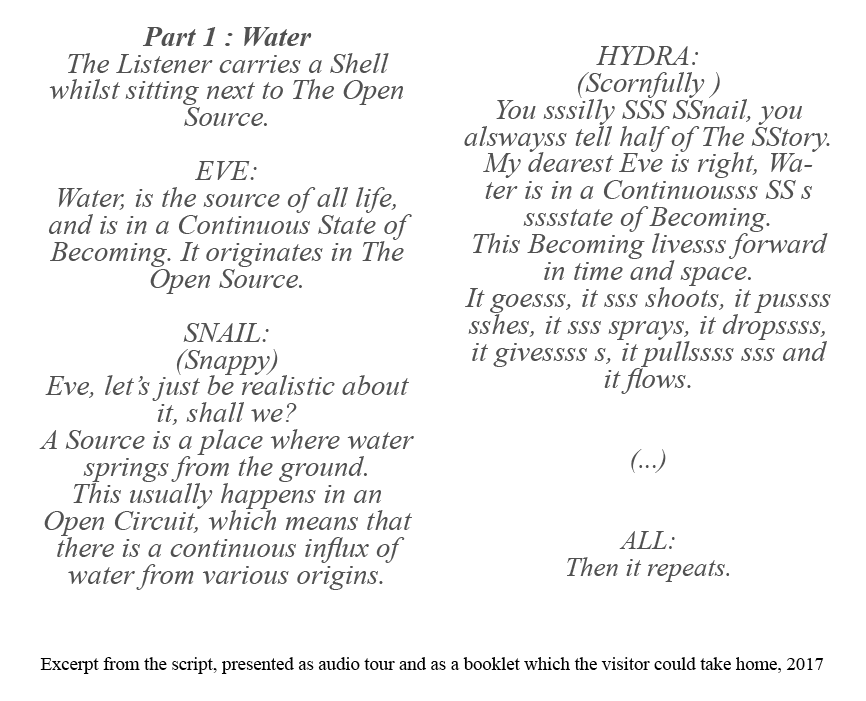 ______________________________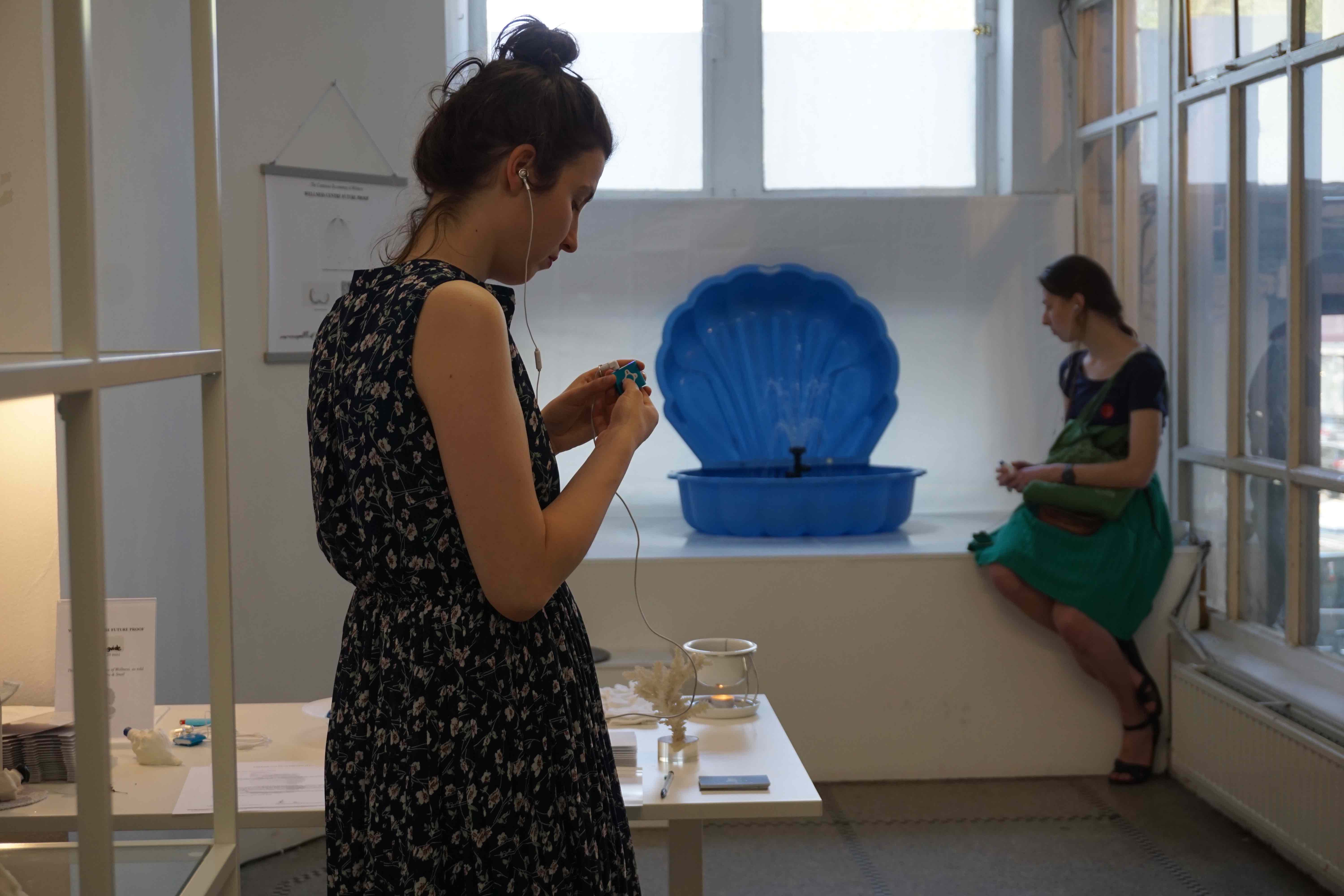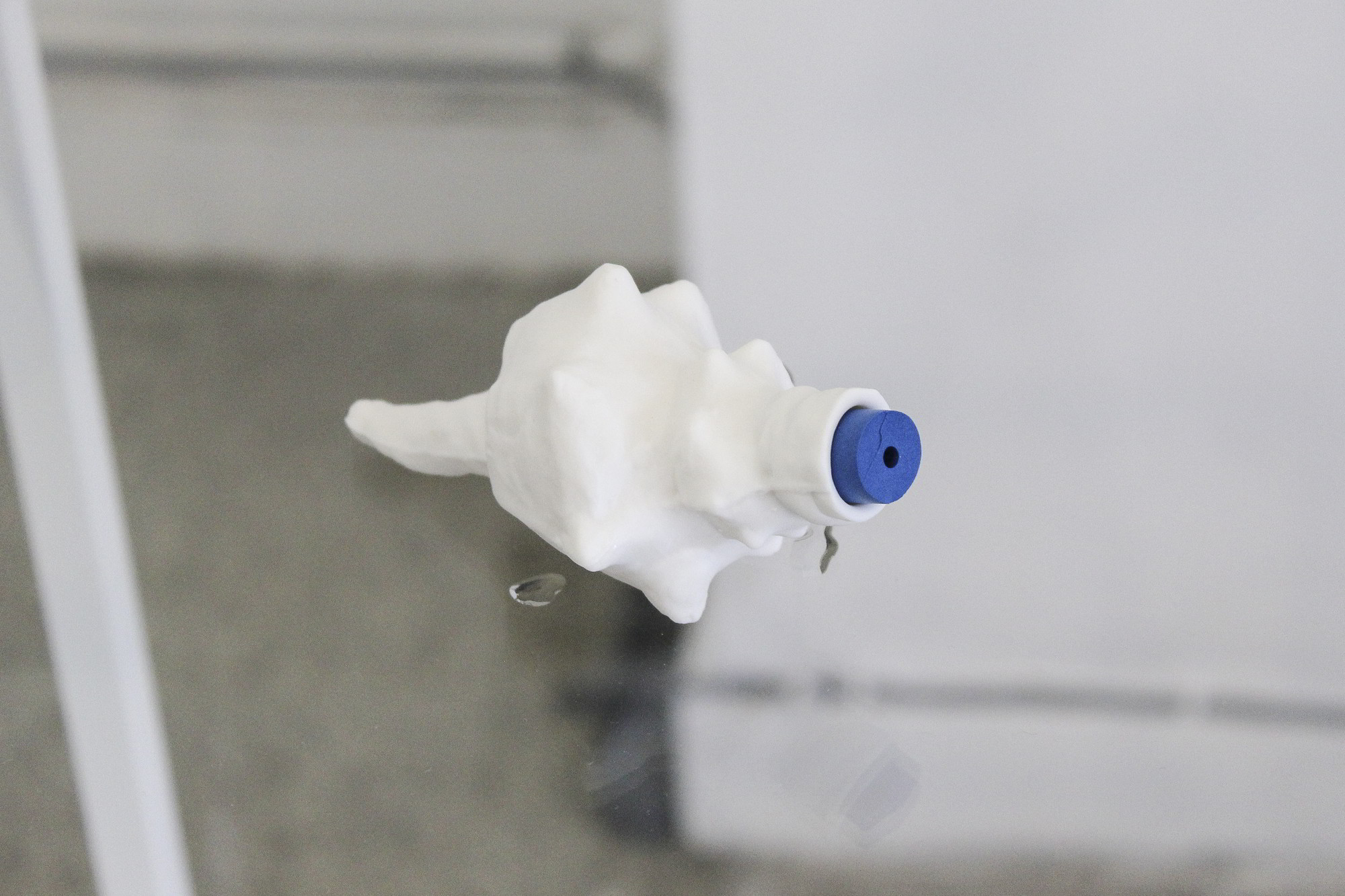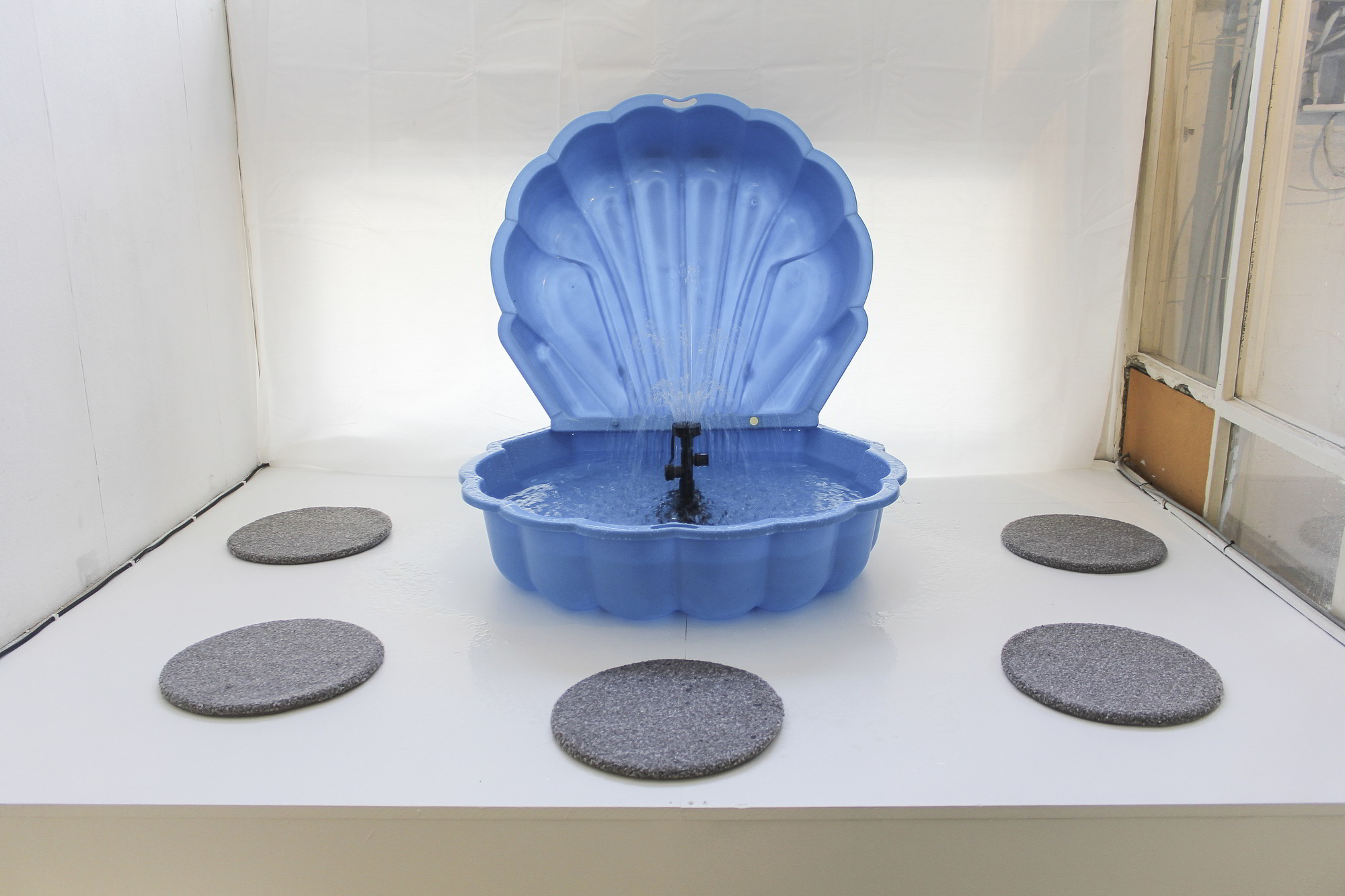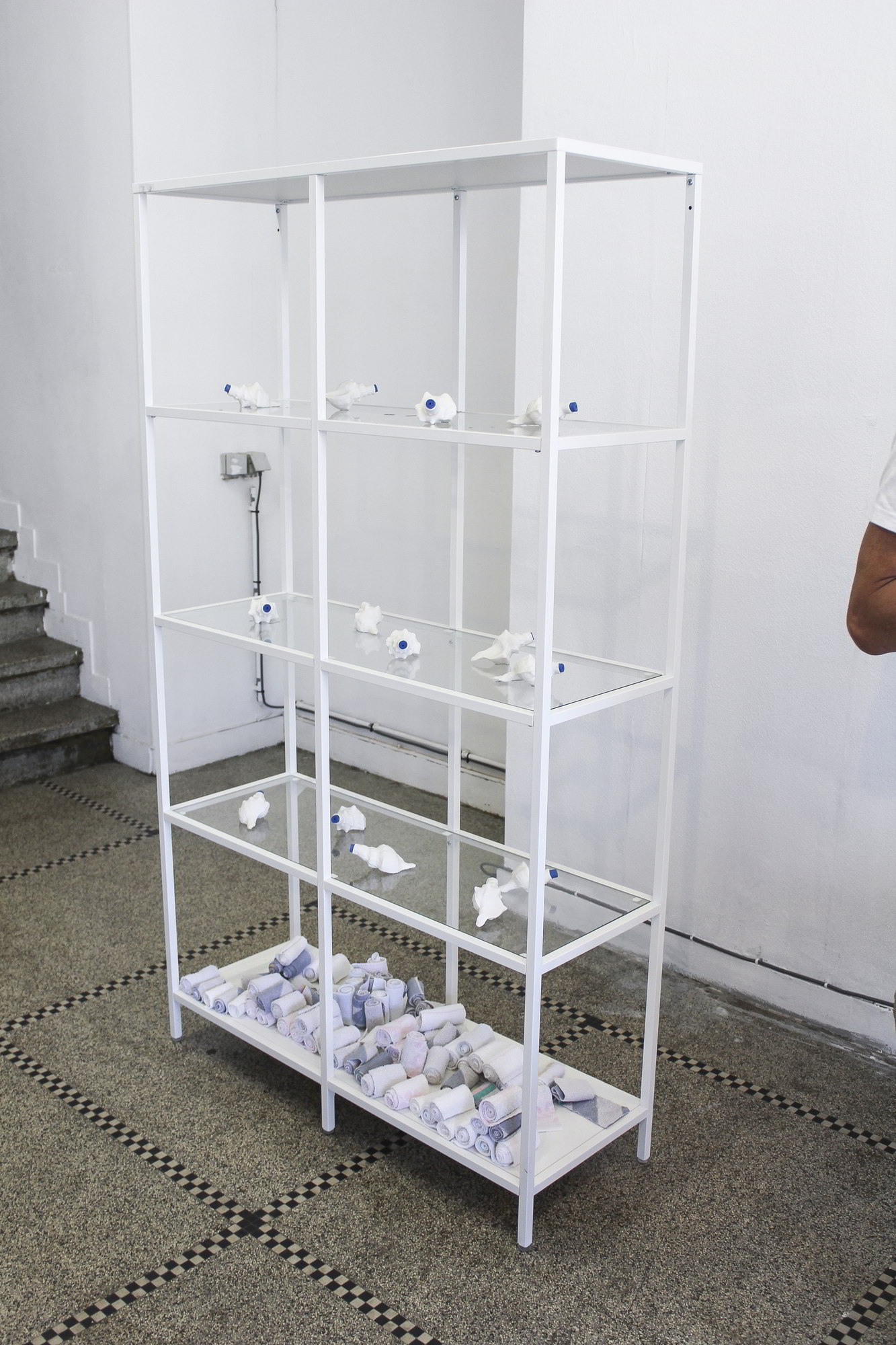 ___________Recipes for Earthly Survival_____________
______________Press________________
De Tijd, "Kunstbeurs zonder witte hokjes", 19th of April 2018
Artviewer, Special Feature, Poppositions, 23th of April 2018
An adaptation of Margaret Atwood's 'The year of the flood'.

What to eat after the Apocalypse?

The performance consisted of serving of food harvested from the Schelde, the river that flows through Antwerp. The food was presented on plastic waist, also coming from the Schelde. On the menu were rabbit, pigeon, seaweed, oysters, different kinds of herbs and fish.

WORK FLOW, Curated by Wim Wauman, Sint Niklaas (BE), 2018
_________________________________________
installation view, (c) Karina Beumer
installation view, (c) Artviewer
(c) Liesje De Laet
(c) Liesje De Laet
(c) Liesje De Laet
___________The Manual Treatment_________________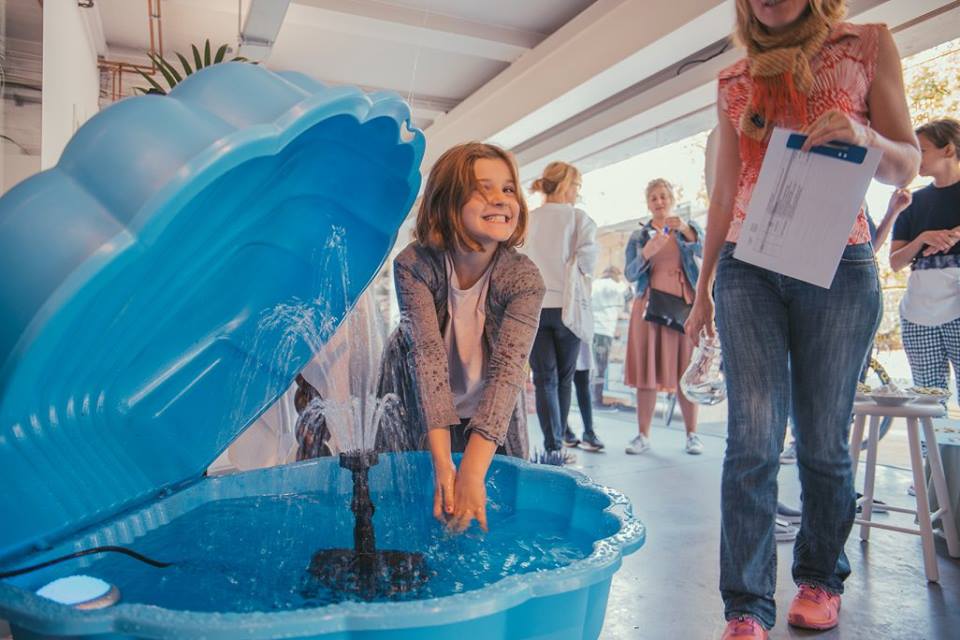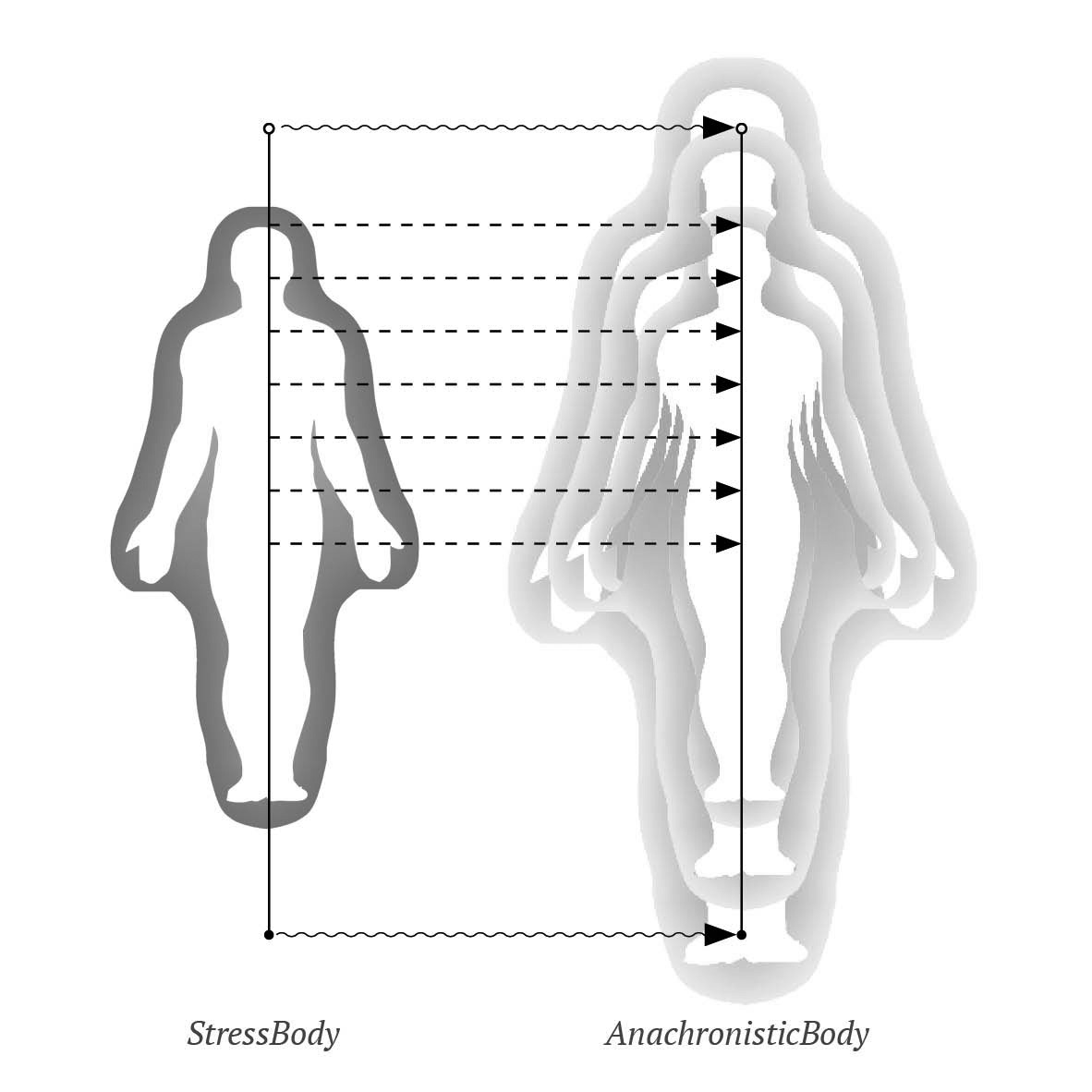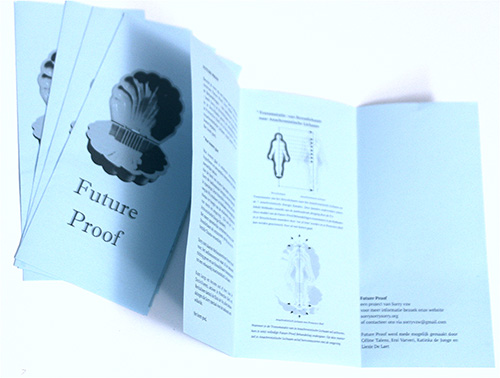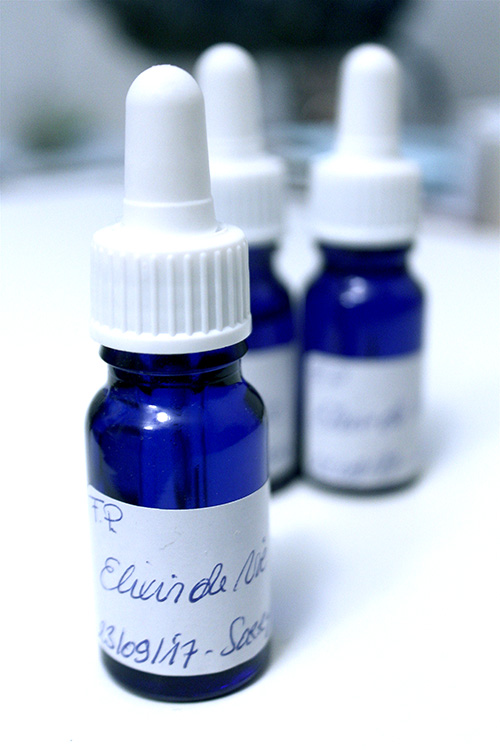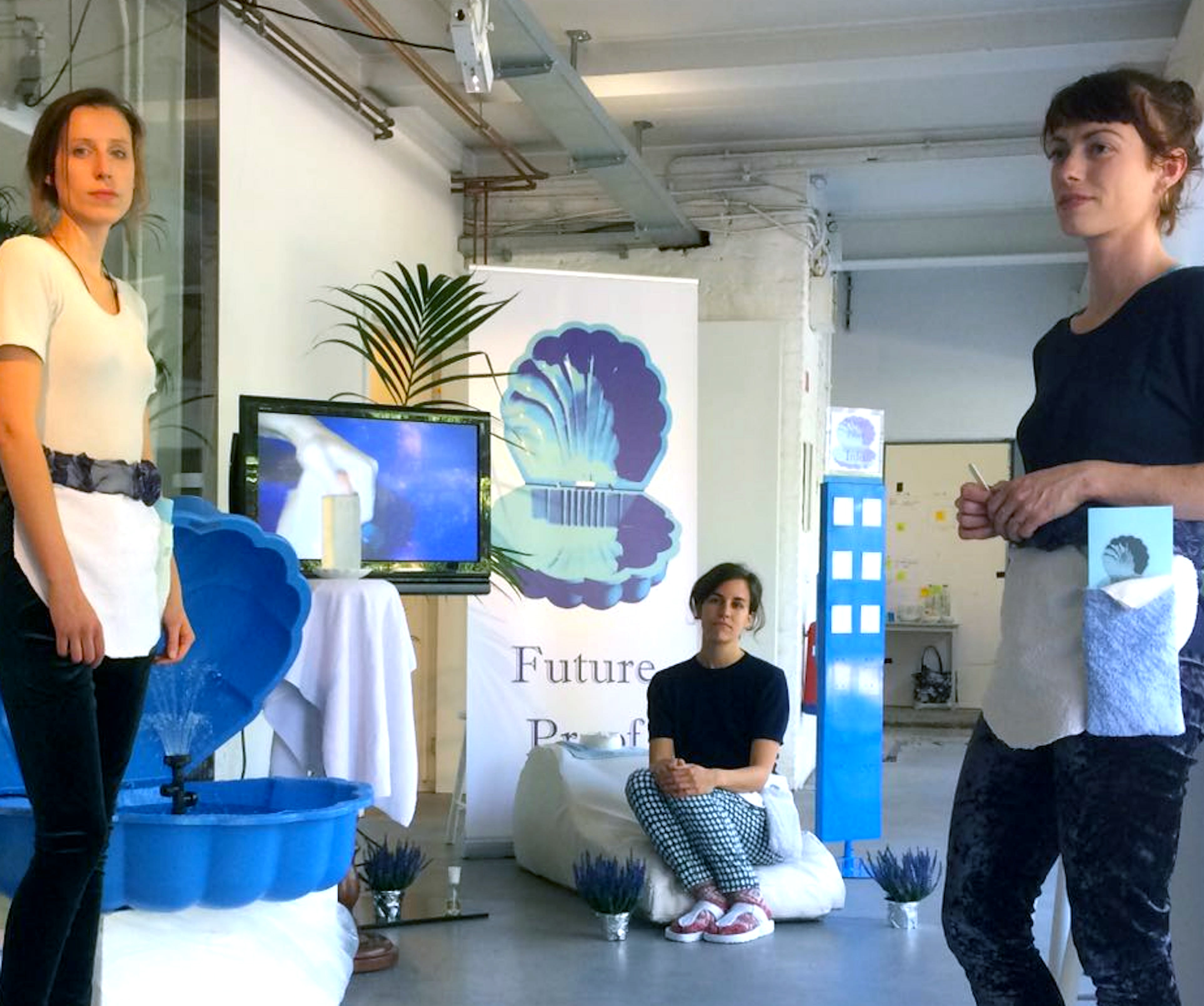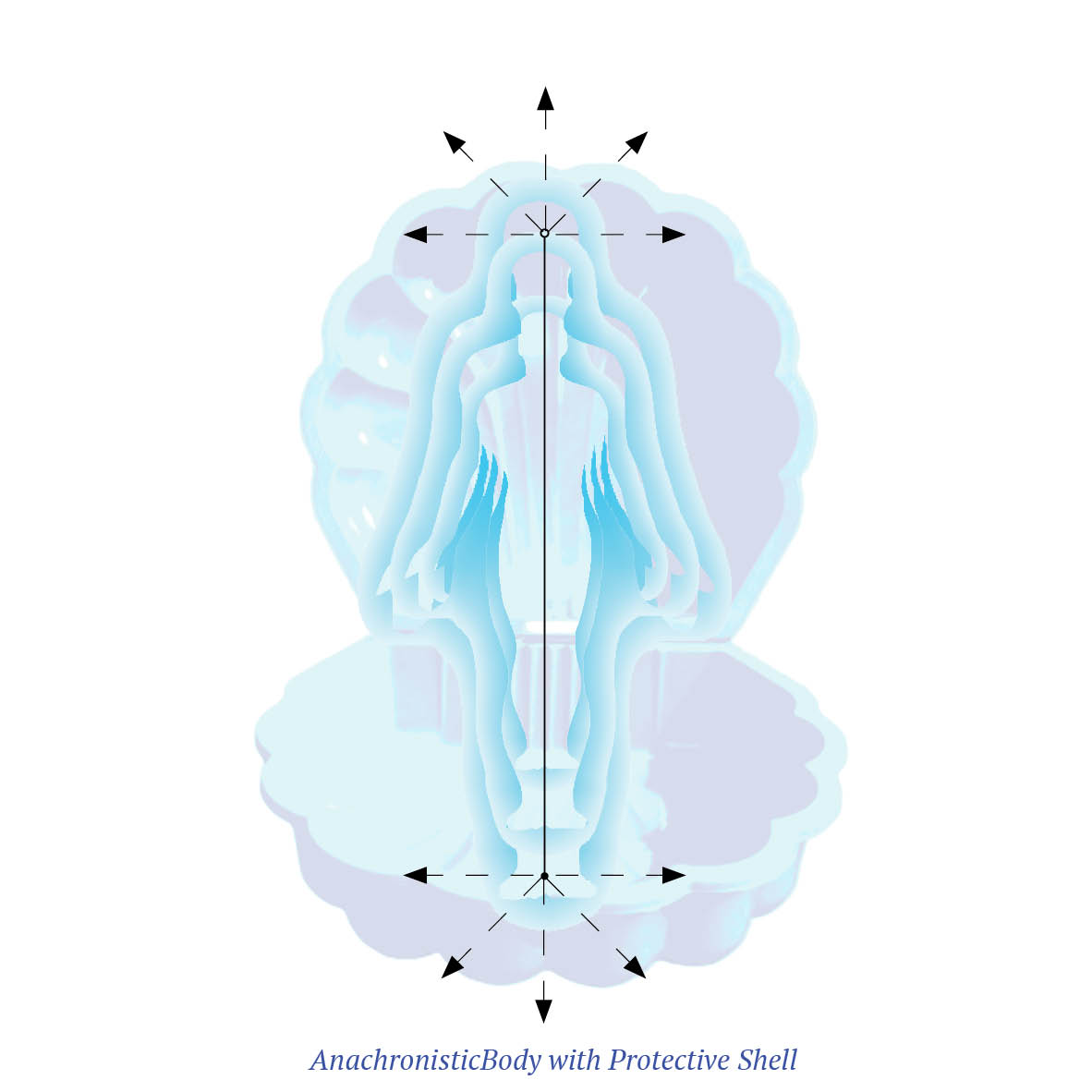 Prepare for what is yet to come in Wellness Centre Future Proof. Through different Treatments - from hand creams to elixirs - we heal your stress-body and guide you through your De-civilisation Process, the development of your Protective Shell towards your Revitalisation. Let your Anachronistic Body determine your Future from Now on.
All will be well.


(Excerpt from the flyer, presented as an introduction on the Treatment)

From:
Liesje De Laet
Katinka de Jonge
From:
Liesje De Laet
Katinka de Jonge
With:
Karina Beumer
CCQO
From:
Liesje De Laet
Katinka de Jonge
From:
Liesje De Laet
Katinka de Jonge
Shell, multiple, porcelain, plastic, water, 2018, picture (c) Artviewer
Excerpt 'The open Source', audio tour, 2018
Poster Wellness Centre Future Proof, a2 print on paper, 2018